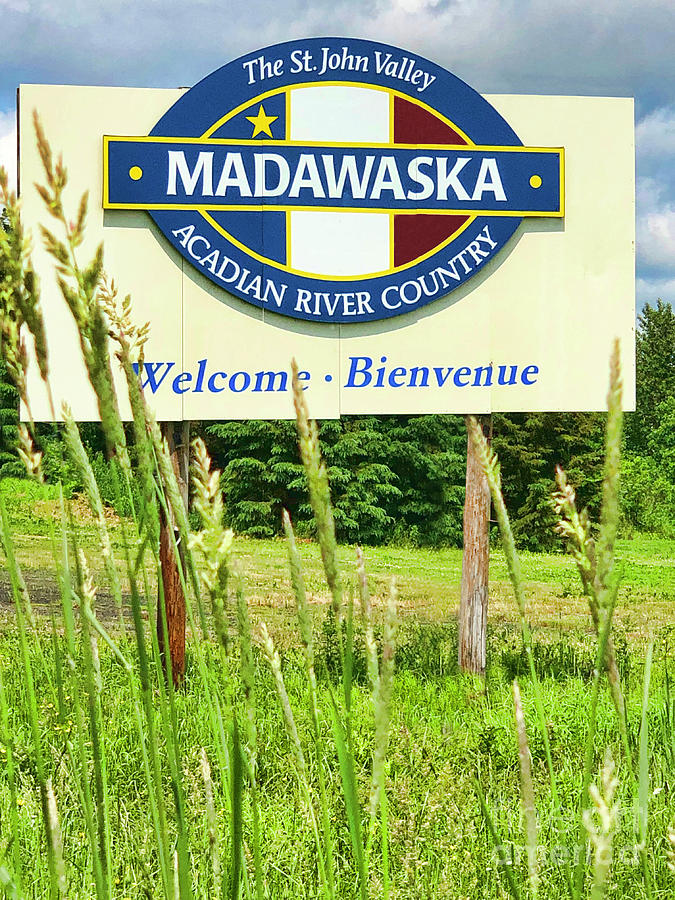 Title
Welcome To Madawaska Maine by Diana Raquel Sainz
Artist
Diana Raquel Sainz
Medium
Mixed Media - Photography, Acrylics, Watercolor, Digital Art
Description
Northern Maine, United States
Welcome To Madawaska, Maine!

When my dear friend Bonnie welcomed me to come up and stay for the month of July, without hesitation I said "YES"! In all of my travels, this is one area I had not been to, and my adventurous side kicked it.

I landed in Bangor where she picked me up at the airport. After tears and hugs and a night in Bangor, ME, we drove up I-95 and headed north. I-95 is an interstate that has been on my main path most of my time in the states, but to literally see maybe only 5 cars during a 3-hour drive, I must say that was shocking. It was an entirely different world. To hear Bonnie comment on the amount of traffic left me giggling.

As we entered the town of Madawaska, Maine I was greeted by this sign. Of course, I had to take a picture of it.

Now day 11 here in Madawaska and Maine in general, I am in awe of how crisp and clean the air is. The vibrant green rolling pastures are endless. The smell of the freshly cut grass takes me to my childhood spending the summers in the mountains of Spain.

The town is small, quaint and inviting and those whom I have met so far are extremely welcoming, kind, friendly and most of all very proud of their little town.

Madawaska sits way up in the Northern corner of Maine in what is referred to as "Acadian River Country in the St. John Valley on the St. John River that divides the United States and Canada.

As I sit on her back porch, the view of Edmundston, New Brunswick, Canada is at arms reach. The flowers are vivid in breathtaking colors contrasting the azure blue skies.

I think I found a little piece of heaven!
Statistics
Viewed 584 Times - Last Visitor from Shenzhen, 30 - China on 12/08/2022 at 8:11 PM